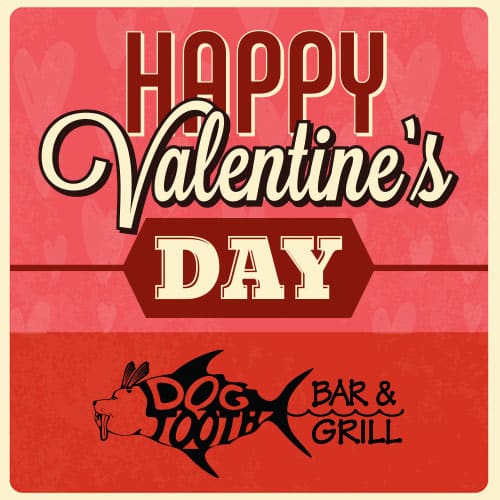 Happy Valentine's Day
We have some heart-eyes for our Valentine's Day Specials available from Friday, February 10th – Tuesday, February 14th.
Have something light for your heavy heart with our Citrus, Strawberry and Shrimp Salad made with crisp mixed baby greens tossed in a strawberry poppy seed dressing with sliced oranges, diced red onion, fresh strawberries, sliced avocado, goat cheese and grilled shrimp.
Treat yourself to Surf and Turf, a 10 oz boneless ribeye steak with grilled shrimp and peppercorn sauce served with garlic mashed potato and asparagus. Or skip the turf and keep the surf with Chilean Seabass, a pan seared fillet served over orzo with diced onions, sliced andouille sausage and broccoli in a smoked paprika lemon butter sauce. Can't choose? We get it. On Valentine's Day buy 2 entrees and get 1 bottle of house wine, complimentary. Finish your meal with a Red Velvet Cake you definitely don't want to share.
Enjoy our couples' cocktails from Friday, February 10th – Tuesday, February 14th along side your meal. For her, a Chocolate Truffle Martini made with vanilla vodka and white chocolate cream. For our more masculine folk, a Chocolate Old Fashioned with chocolate whiskey, bourbon, and orange bitters.